Formal Wear
-Formal Wear-
Trust Your Formal Wear to the Experts
When it comes to formal wear, perfection is key. Whether you're attending a black-tie event, a gala, a prom, or any special occasion, your formal attire should make a statement and exude sophistication. At Shores Fine Dry Cleaning, we understand the importance of keeping your formal wear in pristine condition, ready to make a lasting impression.
With our expert dry cleaning services, we go above and beyond to ensure your formal wear receives the care it deserves. Our team of skilled professionals is well-versed in handling a wide range of fabrics, including delicate silks, luxurious satins, intricate lace, and more. From tuxedos and suits to evening gowns and cocktail dresses, we specialize in preserving the quality and enhancing the appearance of your formal garments.
Over time, formal wear may experience wear and tear, lose its luster, or require alterations to achieve the perfect fit. Our experienced seamstresses and tailors are here to restore the elegance of your formal garments. From minor repairs to extensive alterations, we have the expertise to ensure your attire looks flawless and feels comfortable, allowing you to confidently showcase your personal style.
Discover the difference that expert dry cleaning and garment care can make for your formal wear. Contact Shores Fine Dry Cleaning today to discuss your specific needs, schedule a consultation, or take advantage of our convenient pickup and delivery services. Let us elevate your style and ensure your formal attire radiates elegance and confidence on every special occasion.
-Case Studies-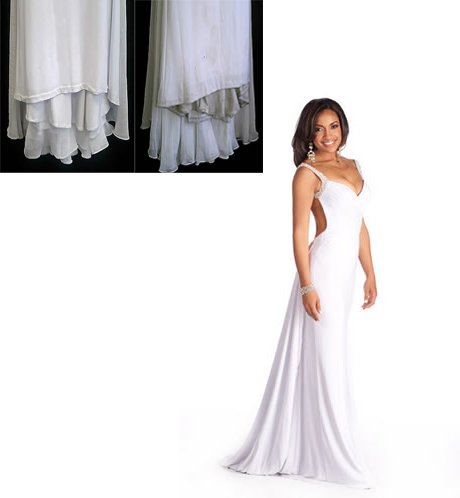 PRESERVING FOR THE NEXT GENERATION
"My daughter has always wanted to wear the wedding dress that I wore and that my mother wore. It was made by my grandmother as well and a real heirloom to us. When the time came for her to wear it we pulled it out of the box only to find some huge brown stains all over it. I thought the dress was ruined! We took it to Shores to take a look at it. He said he would be able to get it clean with their special restoration process. I was a little concerned because the dress is 55 years old but they did an amazing job. The stains were gone and the dress was whiter than when I wore it! Brian and his staff could not have been more pleasant to work with. From cleaning to altering and now preserving for the next generation, I highly recommend Shores Dry Cleaners! You will be very happy!"
-Get in Touch-
Get a complimentary consultation